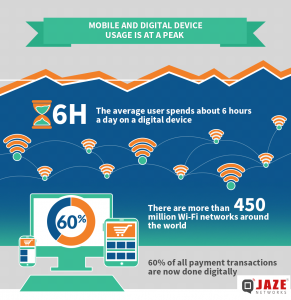 The demand and availability of Wi-Fi is increasing and is replacing the traditional data pack recharges. On an average each individual is spending about 6 hours on a digital device with internet connection. The infographic below says there are more than 450 million Wi-Fi networks around the world. Wi-Fi connections are getting significantly faster with greater consumer expectations and for higher speed, higher reliability and availability at anytime and anywhere.
Internet service providers should be able to provide uninterrupted Internet services with great speed and reliability to make their subscribers easily communicate and engage with their activities on Internet through the deployment of Wi-Fi hotspots along with broadband.
Jaze ISP manager provides an end to end solution to manage hotspots and allow broadband subscribers to roam on Wi-Fi networks and also allow for hotspot access for others with advertising and usage logs.