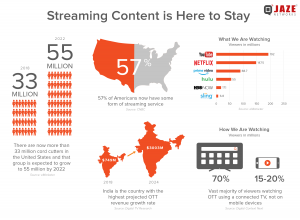 The infographic below shows the statistics on the growth in streaming content through OTT platforms in major Internet penetration countries like India and USA. The OTT industry has begun to surge during COVID lockdown period as many people are streaming online content through OTT platforms and has become one of the major sources of entertainment during the pandemic. YouTube continues taking the first place followed by Netflix, Amazon Prime Video, Disney+, Hotstar and others. The numbers will continue to rise in the coming years with higher number of broadband connections becoming widespread in homes and people streaming by connecting their televisions to Internet.
As the technology advances, OTT will require better methods of distributing videos which helps in moving the industry forward. ISPs need to peer with the OTT content providers and CDNs and also adopt caching of content in order to serve content faster and cheaper. Peering will save considerably in upstream bandwidth for ISPs and deliver a better viewing experience to end-users.
Jaze ISP Manager helps ISPs to design customizable broadband plans with separate queuing and peering policies to deliver Internet speed with best quality services for OTT to your subscribers by reducing ISP costs.