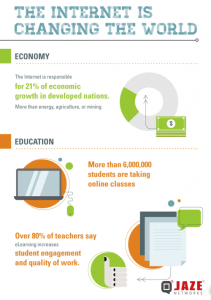 The rapid advancement of the Internet has created unmistakable, significant changes to our everyday lives. The impact the Internet has on society is felt in almost everything we do. The Internet accounts for a significant and growing portion of global GDP. Internet-related consumption and expenditure, if measured as a sector, is now bigger than agriculture or energy.
With the worldwide reach of the Internet and the ubiquity of smart devices that can connect to it, a new age of anytime anywhere education is dawning.
ISPs should ensure their networks scale to cope with increasing demand and integrate with all the new delivery technologies to provide cost effective growth.
Jaze ISP Manger Integrates with multiple NAS routers and enables the ISPs to centrally manage their end-to-end operations of their entire business.