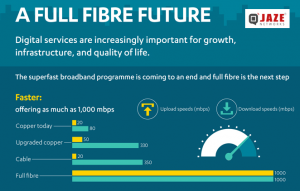 Broadband is essential to the modern world we live in. Fiber optic lines transfer data using modulated light instead of electricity, which gives them much higher bandwidth capacity. Fiber internet connections work at speeds up to 1 gigabit per second—literally 100 times faster than those old copper wire connections. If you consider the importance of speed, efficiency, and reliability when transmitting data, then your best choice is fiber internet for downloading and uploading your information.
Make sure your ISPs provide Fiber optic Internet to experience the quality Internet. Fiber optic has been cheaper to deliver and provide high quality at the same time. ISPs are increasingly adopting FTTH technologies to deliver fiber directly to customers for triple play services.
Jaze ISP Manager enables Internet Service providers (ISPs) to centrally manage their end-to-end operations of their business to serve you with fast and reliable internet with fiber optics and manage triple play services on the same network.