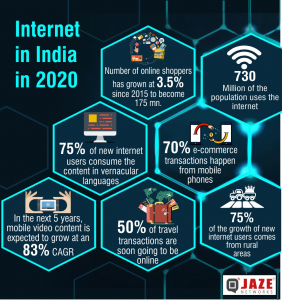 India's Internet penetration has improved at a much faster pace this year. This has been driven largely by the pandemic situation which has helped increase the number of Internet users to nearly 730 million. This means half of the population in India already uses Internet. The number of Internet users has increased in both urban as well as rural regions, indicating a dynamic growth in access to Internet. Rural growth has outpaced the growth in urban areas during this period. Though India's internet penetration is only 50%, it is already the second-largest internet user base in the world, only behind China.
The number of online transactions especially for e-commerce has increased business activity. More and more people are accessing Internet on their phones as a primary device in regional languages. This has led to increase in e-commerce transactions and better access to information. There is a gradual shift to travel related transactions moving online with faster and better experience.
ISPs providing broadband services should ensure their networks scale to cope with increasing demand and integrate with all the new delivery technologies based on fiber to provide cost effective growth.
Jaze ISP Manger Integrates with multiple NAS routers and enables the ISPs to centrally manage and monitor the end-to-end operations of their entire business.
Click here for more information.