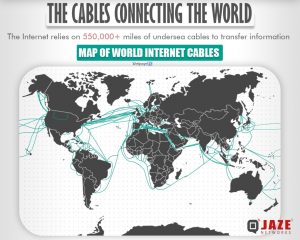 In order to connect to the Internet more than half a million miles of cable has been laid throughout the world's oceans. These cables are massive, and they're responsible for international data transmissions .These cables have fiber optics inside that are responsible for transmitting actual data.
India has two international cables connected the subcontinent: One from Mumbai and another from Chennai.
Is your backbone ISP multihomed to handle Internet traffic even in the case of a fiber cut on one of these major uplinks? Is your backbone reliable to withstand a shark bite on one of these core backbones?
Jaze ISP Manager helps ISPs to provide reliable Internet to all your subscribers.