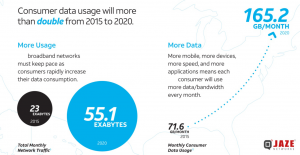 In the future, innovative technologies will push broadband consumer demand for more data, more speed, and more bandwidth. With dramatic increases in wireless customers, wireless devices, and applications, it is expected that consumer data usage will more than double from 2015 to 2020.
In the future, innovative devices and services will require faster connection speeds and more data. This means broadband networks must keep pace as consumer demands change.
Jaze ISP Management solution enables Internet Service Providers (ISPs) to ensure the best quality of service for broadband customer and to centrally manage end-to-end operations for their business.