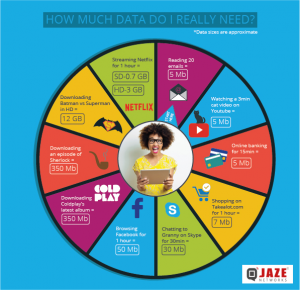 An average individual is using a minimum of 1GB of Internet in a day and is mostly consumed through mobile devices. Wi-Fi users are using a minimum of 85GB per month. Internet nowadays is becoming a basic necessity like water and electricity. This is more likely with people who live in urban areas. Some households are also opting with unlimited data to stay always connected to the Internet. Most of the data is used for streaming videos, downloading movies, social media and surfing through the Internet.
Today Internet packs are far cheaper than it was a few years ago and more and more ISPs are offering unlimited data packs to attract customers as peak consumption has become predictable for household customers.
Jaze ISP Manager helps ISPs to provide differentiated Quality of Service to their Subscriber's to manage the data traffic and provide flexible bandwidth capping for different services in integration with peering services to deliver the best Internet experience to the customer.