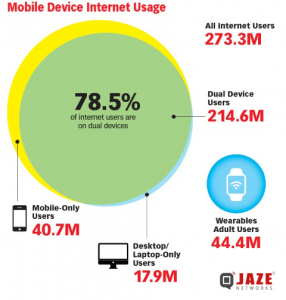 This Infographic reveals that nearly 78.5% users around the world use Internet on dual devices. Well over half of the world's population is now online irrespective of their devices and nearly a quarter of a billion new users came online for the first time in 2018. Much of this year's growth in Internet users has been driven by more affordable Smartphone's and mobile data plans, so it's increasingly easy for the people to enjoy a rich Internet experience wherever they are.
Fixed broadband is here is stay even though mobile Internet usage has soared. Is your ISP ready to provide quality services to ensure their subscribers always connected to the Internet?
Jaze ISP Manager provides many useful functions such as billing, invoicing, central configuration and monitoring of equipment, hotspot billing, client portals, and much more for ISPs of all sizes.