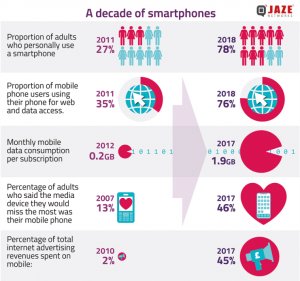 The infogrphic below shows how smarphone usage has been increased over the past decade. Nearly 80% of the population is using smartphones now and this has increased almost 50% from the past 7 to 8 years ago. Now almost all smartphones are Internet enabled and almost all activities from news to shopping to social media is online today. On an average every smartphone user is using 2GB data per month. The usage of data has been increasing drastically. With this growth, online advertising has became a new way for companies to promote their products beacause people are spending more time on their smartphones than any other electronic devices.
The ISP providers should work towards offering the best Internet services to all users on all devices. Internet penetration on mobile is going to boom over the coming years and ISP providers have an interesting market ahead to cater to this demand with IPv6 support and faster Wi-Fi access on their networks. Also, 5G will become a major technology change in the coming years for the entire industry.
Jaze ISP manager enables Internet service Providers (ISPs) to centrally manage end-to-end operations and scale with customer growth with precise control on bandwidth and QoS with customizable billing options and more for delivering the best possible experience to your Internet subscribers.