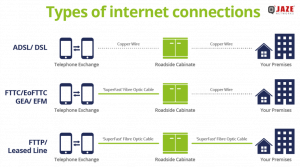 Internet connection plays a vital role in today's world. The type of Internet connection we are choosing is also very important to get uninterrupted Internet connection without any interruptions and speed issues. The infographic below shows that FTTP leased line connection is the best if you are running a business or if you want to connect various devices at once in home. Connection with fiber optics has many advantages compared to the copper wire connection.
Make sure your ISPs provide Fiber optic Internet to experience quality Internet with the highest reliability. Fiber optic has been cheaper to deliver and to provide high quality services at the same time.
With different kinds of access methods to the Internet, Jaze ISP Manager allows fine tuning your bandwidth and QoS policies to deliver the best experience to subscribers.