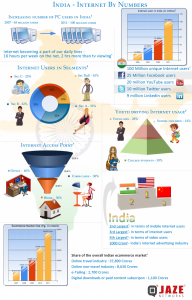 The infographic below shows Internet usage growth statistics in India compared to the previous years. As of now, India stands in second place in terms of Internet users and it continues to grow at a healthy pace. Based on the numbers, more than 10% population of Internet users in the world are from India and most of them access Internet from mobile devices. The rural Internet users are also growing because of affordability of mobile data and easy access to smartphones. Facebook is the biggest social media network in India followed by Twitter, Instagram, and YouTube. People are using these social media channels nearly 3-4 hrs in a day accessing different kinds of information, entertainment and news updates.
As Internet data plans, home Wi-Fi, public Wi-Fi hotspots have become more affordable and easily available, access to internet in India will become more widespread in next coming years. The growth is going to continue and the demand in the market for broadband and Internet access is still very high mainly driven by young Internet users and digitization of the economy and e-learning. ISPs and telcos have a major role in satisfying this increasing demand. The potential for subscriber growth is still there thanks to the huge population and a lot of under-penetrated areas especially in rural areas.
Jaze ISP management solution enables Internet Service Providers (ISPs) to scale out and manage growing subscriber bases centrally and provide managed QoS for building highly scalable networks in order to cater to the surging demand for Internet in India.