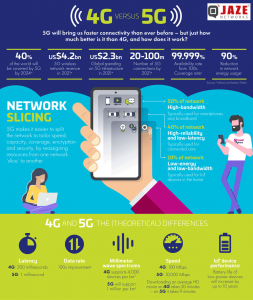 The Infographic below shows the differences between current and future internet technology with 4G which is to be succeeded by 5G. The major differences between both the technologies are all about throughput and latency. By 2024, 40% of the world's population will be connected to 5G. 5G based on network splicing allows for more reliable connections and provides many advantages for applications like IoT with High reliability, low latency and low energy consumption for smart devices in connected homes.
Service providers are already offering 5G connectivity, but it is not yet available to most consumer markets. Service providers are slowly integrating 5G into their networks and plans, which will, in turn, require a new generation of devices for the coming future needs. Spectrum costs and end-device costs will determine the overall costing for 5G delivery.
Broadband will still continue to exist even though 5G becomes widely available as they server different purposes with different use-cases. Jaze ISP Management solution enables ISPs to ensure the best quality of service for broadband customer and to centrally manage end-to-end operations for their business.