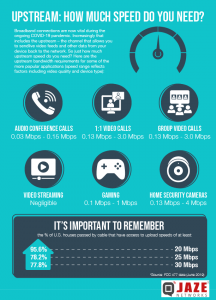 The infographic below shows how much upstream bandwidth speed is required for typical activities on the Internet. The way we use the Internet has changed. In the early days, Internet was mostly used to browse for information. The Internet has evolved to include different types of user-generated content like videos, photos, video streaming and many more. A web audio conference call requires only an upload bandwidth of about 0.03 to 0.15 Mbps in bandwidth, whereas a video call may require up to 3 Mbps.
Earlier bandwidth used to non-symmetric with delivery media such as copper and coax cables. But today with fiber, this restriction is almost gone with most ISPs providing symmetrical upload and download speeds in full duplex mode.
This greatly enhances the experience of activities like video conferencing and streaming footage from security cameras. Today, ISP providers are setting up the game with more than 95% of the providers serving 20Mbps of upload bandwidth even on coax cable.
Jaze ISP Manager provides configurable options to adjust upstream bandwidth on their Internet plans and helps them shape traffic efficiently through RADIUS based policies to provide better quality of service and browsing experience to subscribers.