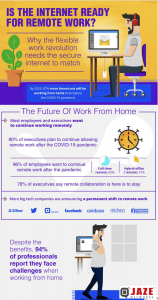 As the coronavirus pandemic continues to spread, more and more companies are planning to provide permanent remote work option to their employees. There are some challenges related to data security over Internet and bandwidth which play a major role in working from home. Current Internet plans may create much chaos while working with large files so based on the work every employee needs to choose Internet plans based on upload and download speeds which can also handle your entire household getting online at the same time.
Internet service providers have to step-up their game in provide a secure connection to their subscribers with customized bandwidth plans with providing flexible payment options or Internet plans which suits all type of families. ISPs need to allow for VPN with VPN passthrough enabled on their CPE to seamlessly connect over VPN to their office networks.
Jaze ISP Manager helps ISPs to manage all aspects of your Internet business from lead management to helpdesk, subscriber and plan management, inventory management, log management, revenue sharing and more.