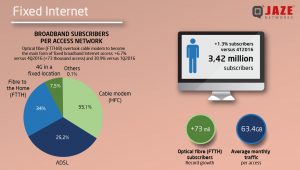 Even though Mobile Internet and 4G happens to grow at a tremendous rate there has been a simultaneous rise in fixed internet services such as broadband on FTTH and DSL.
This infographic shows increasing in the broadband subscribers per access network. The results of the ANACOM research says Optical fibre(FTTH/B) overtook cable modem to become the main form of fixed broadband Internet access.
At the end of 2017, almost half of the users (49.1%)had theoretical maximum speeds with accesses equal to or greater than 100 Mbps.
Going forward fiber is going to be the way forward with GPON providing cheaper connectivity and higher speeds.
Regardless of the technology, ISPs need software to manage and monitor their network and have smooth operations. Jaze ISP Manager provides automation of end-to-end operations at scale with customer growth and increasing demand.