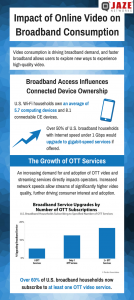 Online video streaming has made a major impact in recent times to get broadband connections for homes to connect TVs and other viewing devices. OTT stands for Over-the-Top devices which helps the consumers to use internet to stream video to multiple devices and view live television as well as movies and other content without the need for a regular cable connection. With over 50% of the US population having Netflix subscriptions and many other OTT platforms like Amazon Prime and Hulu to name a few, people are moving towards on-demand video delivery to view what they want at their convenience. This trend has taken over worldwide with more and more users cutting the cord and preferring OTT over traditional cable.
Some of the advantages of using the OTT platforms for entertainment are it provide high value content at low cost and users can also stream original content. It is also compatible with many devices and users can choose to watch OTT content from a broad range of devices. Any account holder can enjoy the same OTT experience from a gaming console, Smartphone, tablet, or a Smart TV.
Today a lot of OTT providers have set up caching services at local ISPs to reduce bandwidth consumption and also a lot of content providers deliver content over direct peering for lower delivery costs.
Jaze ISP Manager helps Internet service providers (ISPs) to shape your traffic efficiently through RADIUS based policies with separate queuing for peering and Internet bandwidth to help reduce ISP costs and provide better quality of service for OTT and other services to end users.