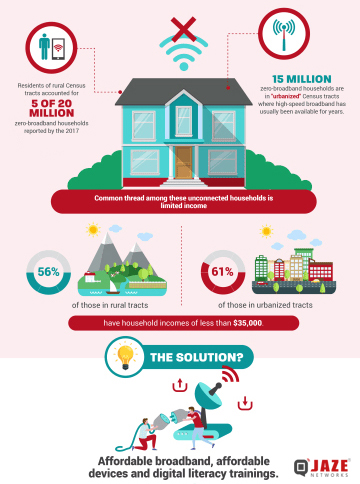 The Infographic below shows that people in the rural areas are yet to be connected to the Internet at home. The reason for not using the Internet is that people in the rural areas are earn less income compared to the people in the urban areas and so they cannot afford the broadband connection to the household. One more main reason is that the population in the rural areas is older and less educated compared to the urban areas and some people still doesn't have any idea about the Internet.
Internet service providers should conduct awareness activities in collaboration with the government which helps in increasing the investment in the rural broadband connections. Also ISPs should plan to deliver affordable end user devices as well so that people are more interested to have Internet connections rather than thinking of it as an added cost on their budget.
Jaze Networks provides ISP management solutions for Internet Service to manage broadband and leased line connections with Flexible Billing, Helpdesk management and Jaze Cloud Wi-Fi solution empowers businesses to provide completely cloud-managed hotspots across distributed locations managed from a single dashboard.