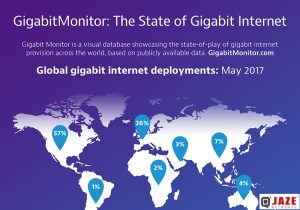 Internet speeds have with increasing rapidly with the lower costs of Internet transit and peering options available.
Internet speeds have increased at 10x rates from 10Mbps being a standard about 5 years ago to 100 Mbps and even 1 Gbps. With the onset of fiber technologies like GPON and metro ethernet and 10G connectivity for backbones becoming cheaper, more and more ISPs are starting to provide 1Gbps broadband to residential and commercial customers.
Jaze ISP Manager integrates with NAS routers from Cisco, Juniper, Huawei, etc to deliver Gigabit internet and helps the Internet service providers to centrally manage their end-to-end operations.