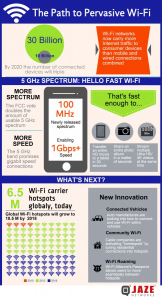 Wi-Fi networks now carry more Internet traffic to consumer devices than mobile and wired connections combined. Pervasive Wi-Fi is the communications backbone which helps in the growth of IoT devices. This communication network would also allow users to connect to anyone or thing from just about anywhere. Pervasive Wi-Fi is an attractive technology for the people who wants to avoid data charges. To make this technology more attractive pervasive Wi-Fi has to be fast, reliable and available easily to access for the people.
This technology is already used to connect masses at stadiums and on cruise ships as the expectation of Wi-Fi becomes a normal part of customer service expectations. With the introduction of 5GHz spectrum it allows to get faster Wi-Fi with more connections.
People today have a wide range of high-speed connectivity options to stay online – preferably on mobile data or on Wi-Fi to broadband networks. ISPs play a major part in satisfying data demands of these users.
Jaze ISP Management enables Internet Service Providers (ISPs) to ensure the best quality of service for broadband customer with custom peering and traffic shaping policies for both broadband and Wi-Fi hotspot networks.