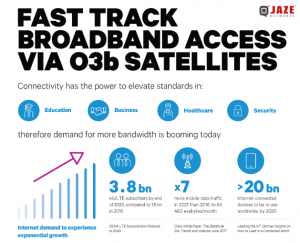 Most experts envision an enormous demand for connected solutions by 2020; the world's population will use nearly 25 billion connected devices, with 6.1 billion smart-phone connections. With the massive increase in connected and mobile devices foreseen over the next years, high speed connectivity with unbeatable efficiency is of paramount importance. O3b proves that the MEO satellites are driving a new era of connectivity. It has quickly become the largest operator and has enabled eight mobile network operators to launch 3G and 4G mobile services.
This is the key differentiator in delivering reliable and fast Next Generation Data services across many different sectors and geographies.
With different kinds of access methods to the Internet and requirement for interoperability and between different types of Internet service providers, Jaze ISP Manager provides scalability and proxying to provide streamlined operations and centralized management of network services.