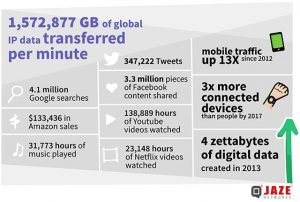 Data is everywhere and we are creating more and more every second. The graphic below illustrates the data explosion. Ninety percent of the data in the world today has been created in the last two years alone. Our current output of data is roughly 1,572,877 GB. As the world steadily becomes more connected with an ever-increasing number of electronic devices, that's only set to grow over the coming years.
These numbers clearly show that the market and your customers are moving faster, generating increasing volumes of data, and expecting more from you in return!
Today ISPs and broadband providers have started offering unlimited packages and peering handling a major volume of data in order to cater to the ever-increasing data volumes.
Jaze ISP manager enables Internet service Providers (ISPs) to centrally manage end-to-end operations and scale with customer growth with support for all leading BRAS and NAS vendors.