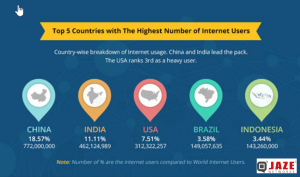 According to a recent report, there were 3.49 billion Internet users around the world. Considering that the number of humans living on Earth is presently estimated at some 8.5 billion, this means that over 41 percent of the world population is interconnected through the use of internet.
China ranks first in a top of countries with most internet users followed by India in the second place, Due to its ongoing and fast-paced economic development, but also to a cultural inclination towards technology.
ISPs are moving towards BRAS solutions from Cisco, Juniper, Huawei, etc to support higher subscriber bases and provide multiple services on these BRAS routers.
Jaze ISP manager enables Internet service Providers (ISPs) to centrally manage end-to-end operations and scale with customer growth with support for all leading BRAS and NAS vendors.