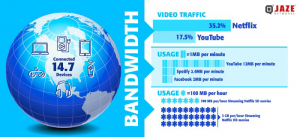 Internet usage at homes on broadband connections is increasing due to this current pandemic situation created by Covid-19. People are stuck at home and are accessing more entertainment sources such as video streaming as shown in the infographic video. Streaming traffic has increased more compared to the last year and this trend looks to continue further. Connected devices in homes are also increasing as more and more devices become Internet enabled today. Broadband connection has become an important resource for households as people are working from home as well as using it for streaming entertainment content from Netflix, YouTube and many other online platforms.
Data usage for 4K streaming consumes data at about 12 Mbps on YouTube. HD movies on Netflix consume about 3GB per hour. More people are streaming on large screens with smart TVs and other Smart dongles such as Fire Stick, Chromecast and OTT boxes.
With these statistics it is clear that the need for Internet bandwidth is going to increase in the future with more and more data being consumed for streaming at higher resolutions. Today, ISPs can peer with YouTube and Netflix at peering points as other PoPs with Cache servers hosted by the content providers. ISPs need to monitor data usage to shape traffic policies and data limits on their Internet plans and also lower transit costs.
Jaze ISP Manager provides detailed usage reports and analytics of data usage to help you design the right Internet plans for your customers.