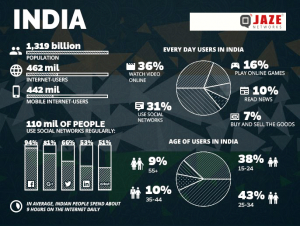 The Internet penetration in the country is soaring at a rapid pace. This infographic provides valuable insights about all the things Internet, covering its frequent usage, demographic reach, usage by gender, behavior of Internet non-users and much more. According to the numbers mentioned in the Infographic, the impressive growth of Internet users is on its way to drive India to be one of the fastest growing Internet markets globally.
This development, along with ever faster internet connectivity, could help provide ISPs with the means to deliver a guaranteed quality of service, which is especially attractive for high bandwidth, content and internet broadcast propositions.
Jaze ISP Manager enables Internet Service Providers to centrally manage subscribers across multiple sites with flexible plan and policy delivery with comprehensive compliance reports.