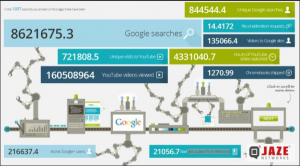 This Infographic shows the number times someone uses the Google search to get information. In just a few seconds we view some thousand hours of videos on YouTube. This is the amount of data used via Google and its search engine. In few seconds some thousands of gigabits data is transferred across the Internet.
Today ISPs and broadband providers have started offering unlimited packages and peering handling a major volume of data in order to cater to the ever-increasing data volumes. Today most of Google content is available through peering from servers within India which helps in tremendous bandwidth savings.
Jaze ISP manager enables Internet service Providers (ISPs) to manage peering polices to provide low latency and high quality experiences to end users at affordable rates.