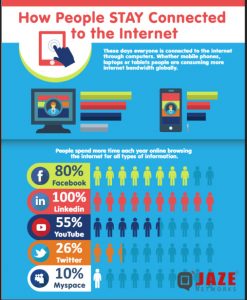 This infographic shows how people are connected to the Internet. Easier access to computers, the modernization of countries around the world and an increased utilization of Smartphone's has given people the opportunity to use the internet more frequently and with more convenience. However, internet penetration often pertains to the current state of development regarding communications networks.
Is your ISP ready to provide quality services to ensure their subscribers always connected to the Internet?
Jaze ISP Manager provides many useful functions such as billing, invoicing, central configuration and monitoring of equipment, hotspot billing, client portals, and much more.