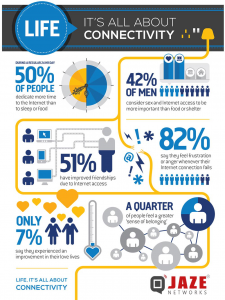 The infographic below shows, over 51% of people have strengthened their friendships due to internet access, while a quarter consider that it has allowed them to experience an enhanced sense of belonging. However, only 7% of people admitted to have experienced a positive change in their love lives thanks to the Internet. It is surprising that 50% of the people dedicate more time to the Internet than to sleep. 82% of people feel frustrating whenever their Internet connection fails.
Internet access offers many benefits, both to individuals and society as a whole like benefits to the individual to improve quality of life, while benefits to society and enhance the quality of place.
Jaze ISP manger helps you shape traffic efficiently through RADIUS based policies to help reduce your ISP costs and provide better quality of service and browsing experience to subscribers.