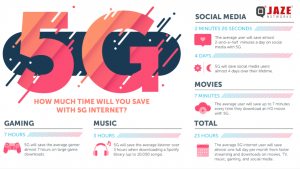 5G internet aims to provide faster speed with improved capacity and efficiency. We can observe a significant increase in upload and download speeds which saves most of our time with faster and ubiquitous connectivity with a wide range of devices and IoT. Social media, movie and songs consume most of our time during Internet usage and with 5G the time will be reduced by atleast 50%. On an average an Internet user can save one day per month with 5G Internet connection.
5G will be a super-efficient mobile network, delivering better performance at a lower investment. This would be warmly welcomed by the network operators who are desperate to reduce cost of data transport at the same rate as the volume of data demand increases.
Jaze ISP Management solution enables ISPs to ensure the best quality of service for broadband customers and to centrally manage end-to-end operations for their business with support for IPv6 and IoT for next generation services.