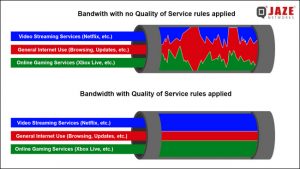 QoS controls and manages network resources by setting priorities for specific types of data on the network. Providing Quality of service is one of the main indicators of an Internet service provider. QoS prioritizes and differentiates traffic and ensures to allow even traffic. This guarantees the quality and rate of access to the internet, and also prevents the network overload.
Today ISPs provide plans which shape and prioritize traffic based on the content. Some ISPs offer higher bandwidth for Google, Hotstar and other services, while other Internet traffic is provided at lower bandwidth speeds.
Jaze ISP Manager Helps ISP's to provide differentiated Quality of Service to their Subscriber's to manage the data traffic and provide flexible bandwidth capping for different services.