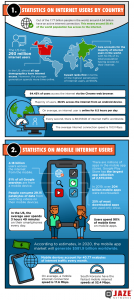 The infographic below shows some interesting statistics on the Internet. Asia stands in the top place with highest Internet users followed by the US. The most used web browser for surfing Internet is Chrome and nearly 4.18 billion users access Internet through Android smartphones.
People spend an average of 6.5 hours per day on the Internet and the average connection speeds is around 11 Mbps. Mobile Internet users consume videos and make millions of Google searches per day making video and search the most widely used services on the Internet.
With this increasing demand in the Internet we can see a pressure to deliver better performance with less capex by ISPs. ISPs need to step up their game to focus on providing Internet plans with higher speed and affordability. Peering with the content providers for the most consumed traffic is the best way to reduce transit costs and price of Internet plans.
Jaze ISP Manger Integrates with multiple BRAS routers and enables ISPs to centrally manage their end-to-end operations with bandwidth capping and business process automation.