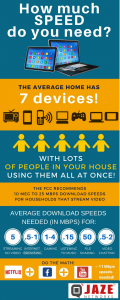 The infographic below shows how much bandwidth every household needs for all their connected devices. This varies from one household to another based on the number of devices used and the usage pattern. It varies significantly based on what you do online and how many people and devices are connected to your network. Today an average family of 4 members has 7 connected devices. Wi-Fi connections especially on 5Ghz are getting significantly faster with higher speed, higher reliability and availability throughout the house.
Streaming HD videos happens to be the most bandwidth intensive application on the network with about 5 Mbps per stream. With two parallel streams and browsing, the Internet consumption is not more than 11 Mbps per household. This is more than sufficient for all activities performed online. Despite this service providers provide upwards of 100Mbps on broadband to make plans more attractive though this peak limit will rarely be reached for home consumption.
Internet service providers should be able to provide uninterrupted Internet services with great speed and reliability to make their subscribers have a seamless browsing experience. Most of the streaming services today are available on local peering thereby reducing costs and latency and improving end user experience.
Jaze ISP manager provides an end to end solution in integration with a wide range of NAS and BRAS routers to manage subscribers and operations to help ISPs scale their business.