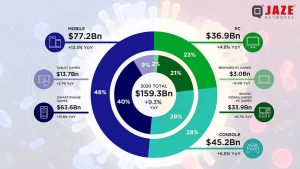 The infographic below shows online gaming statistics during the pandemic while in the lockdown period. The gaming industry has been unaffected to a large extent during the pandemic, with growing user engagement during this period. Most of the multiplayer games need low latency Internet connections for a smooth experience. In the future, innovative games and services will require faster connection speeds and more data with lower latency. This means broadband networks must keep pace as consumer demands change to cater to these customers who want to enjoy a seamless gaming experience at home.
ISPs have to focus on providing a consistent and high-quality service to its customers due to the increased demand and workload requirements. ISPs need reliable software with support for IPv6 and peering with gaming servers which helps enable which will help providing a low latency connection with direct peer to peer connectivity without NAT.
Jaze ISP Manager enables Internet Service Providers (ISPs) to centrally manage end-to-end operations and scale with customer growth with full support for IPv6.