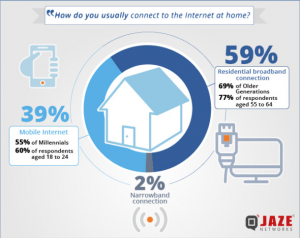 We can connect to the Internet on an ever-increasing range of devices. Plus, there are also quite a few different types of services that allow these devices to get online.
People's choice over the various devices and means of getting online varies according to many factors, including lifestyle, how frequently they need to access the internet, the types of things they want to use the internet to, and budget. This infographic shows around 60% of the internet users are connected to the broadband connection compared to the mobile internet users.
Jaze ISP Manager helps Internet service providers offer end-to-end broadband services to provide streamlined operations and centralized management of network services.