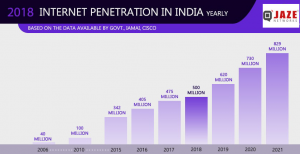 Digital transformation will take India's internet users from 405 million (28 per cent of population) in 2016 to 829 million (59 per cent of the Indian population) in 2021. Mobile networks, devices and connections in India are not only getting smarter in their computing capabilities but are also evolving from lower-generation network connectivity (2G) to higher-generation network.
Subscribers today want ISPs to provide quality services at competitive rates. ISPs are selected based on Location, bandwidth, and pricing compared to the fellow competitors.
Jaze ISP management solution enables Internet Service Providers (ISPs) to scale out and manage growing subscriber bases centrally and provide managed QoS for building highly scalable networks.