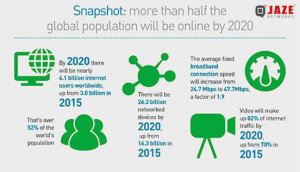 Broadband speed is a crucial enabler of IP traffic. Broadband-speed improvements result in increased consumption and use of high-bandwidth content and applications. The global average broadband speed continues to grow and will double from 2017 to 2022, from 39.0 Mbps to 75.4 Mbps. Several factors influence the fixed broadband-speed forecast, including the deployment and adoption of Fiber to the Home (FTTH), high-speed DSL, and cable broadband adoption, as well as overall broadband penetration.
Speed is a critical factor in Internet traffic. When speed increases, users stream and download greater volumes of content, and adaptive bit-rate streaming increases bit rates automatically according to available bandwidth. Service providers find that users with greater bandwidth generate more traffic.
Jaze ISP management solution enables Internet Service Providers (ISPs) to scale out and manage growing subscriber bases centrally and provide managed QoS for building highly scalable networks with multiple BRAS providers.