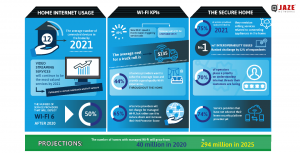 The Infographic below shows the growth of Smart Homes by 2021. Wi-Fi Key performance indicators like speed, connectivity issues and accessibility to the internet connection and affordability of the network equipment are the main reasons people are transforming their homes as smart homes. A smart home is a residence that uses internet connected devices to enable the remote monitoring and management of appliances and systems. It provides homeowners security, comfort, convenience and energy efficiency by allowing them to control smart devices, often by a smart home app on their smartphone. Benefits of smart home include – safety, accessibility, energy efficiency, cost effectiveness, convenience, and remote control.
Service providers have to make sure they understand the challenges with the growth these technologies penetrating homes. ISP Providers have to focus on adapting the technologies and providing reliable internet services to their users with faster Internet and security with IPv6 connectivity on their networks and inside the homes.
Jaze ISP Manager is a comprehensive solution for Internet service providers and Wi-Fi HotSpot operators to manage growing ISP networks with full support for IPv6 to enable smart homes of the future.