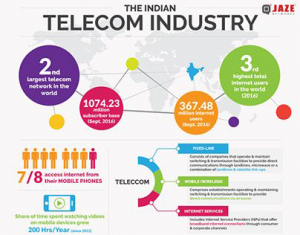 The infographic below shows how telecom Industry has shaped the present and will continue to shape the future in India. The Indian Telecom industry is the second largest industry in the world. Due to technology advances and breakthroughs, the telecom industry has experienced dramatic changes and is going on to develop and evolve faster than ever before. It's anticipated that the year 2020 will account for new changes and will bring a great variety of opportunities to the telecommunications industry with the introduction of 5G.
5G – The 5th generation of wireless network technology will be rolled out soon by all telecom operators to serve wire-like Internet speeds on mobiles. India is one of the largest smartphones user-base in the world with more and more users switching to smartphones which have proliferated the market with lower cost and better features. High speed Internet access on smartphones will drive the growth of Internet and penetrate all parts of the country serving rural and remote areas. Broadband on fiber will still play a major role by utilizing the same backbone which will be strengthened for the delivery of 5G. The broadband market on fiber will definitely grow alongside 5G deployment by telcos and we can look to see even faster speeds on fiber broadband connections with better backbone strength.
Jaze ISP Management solution enables ISPs to ensure the best quality of service for broadband customers and to centrally manage end-to-end operations for their business with support for IPv6 and IoT for next generation services.