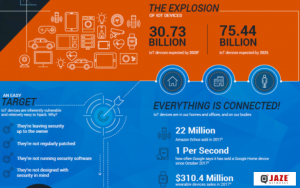 They are millions of IoT devices connecting to the Internet every day. The infographic below show that every second one new device is connecting to the Internet and by the year 2025 there will be more than 75 billion connected devices in the world. Everything is connected to the Internet these days and people are turning their homes into smart homes for better security and many other use cases. Now with the ubiquitous availability of broadband Internet, every person is having a Wi-Fi connection in their home and for each connection there are two to three connected devices. With the introduction of more and more cloud services for connected devices like smart sensors, Google home and Alexa devices, the demand for IPv6 for Internet is surging with most routers today capable of IPv6.
All of these provide an opportunity for Internet Service Providers to customize their Internet offerings according to these new consumer trends with full IPv6 support.
Jaze Networks enables ISPs to manage and deploy hotspots on their network with IPv6 support and RADIUS proxying to allow seamless movement from broadband to Wi-Fi hotspots using the same credentials.