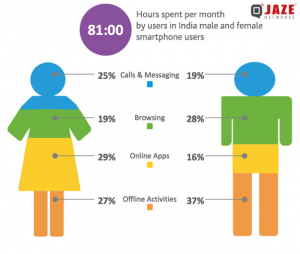 A vast majority of Internet Users stay online 24×7 today. Much of this constant use of the Internet could be attribute to the rise of mobile internet. Mobile phone owners use their devices for different functions; Calls and messaging, using location-based services, researching and shopping for products, video chatting, and talking to friends via social media platforms are a few examples of mobile internet users' activities. Women are more likely to be mobile-first shoppers. About 53.4 percent of women stated primarily researching and purchasing products via their Smartphone. The share of male mobile-first shoppers stood at 46.6 percent. Women are also more likely to use mobile payment services.
Regardless of the gender Internet has changed the way of living of every individual using Smartphone for various Internet activities.
Jaze ISP Manager helps Internet service providers offer end-to-end broadband services to provide streamlined operations and centralized management of network services.