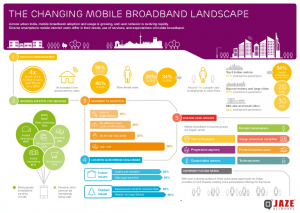 The infographic below shows the changing landscape of mobile broadband adoption where people are rapidly embracing smartphones and mobile Internet to bridge the gap and get access to affordable entertainment. This is happening at a very fast rate accelerated by the COVID pandemic in both urban and rural areas. Smartphones are wildly used because they are more affordable than computers, laptops and many other electronic devices which can be used to connect to the Internet. Internet driving factors include Social media, video streaming and bill payments amongst other. The lowering cost of mobile data combined with higher speeds and data limits have accelerated the growth of mobile broadband.
But this does not mean broadband connections are not increasing. Fixed line fiber broadband provides access to multiple devices for entire homes with much lower latency and consistency. The need for working from home has increased customers to adopt fixed line broadband for better video and remote working expertise. The ISP providers should work towards offering the best Internet services to all the homes. Broadband penetration on mobile and fixed line fiber services are going to boom over the coming years and BRAS providers have a huge market to fulfill as connections increase worldwide.
Jaze ISP manager enables Internet service Providers (ISPs) to centrally manage end-to-end operations and scale with customer growth with support for all leading BRAS and NAS vendors.