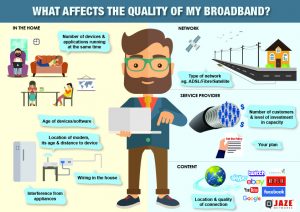 There may be many factors which are affecting the quality of your broadband. Like the distance from the router to your device. Broadband capacity is effected by the number of people online at the same time. The age of your modem and and wiring issues may also effect the performance of the broadband.
Technology used like GOPN, VDSL and ADSL..etc may also effect the quality of your broadband.The capacity of the provider's network can affect your ultimate experience.
Jaze ISP Management solution which enables Internet Service Providers(ISPs) to centrally manage end-to-end operations of their business.