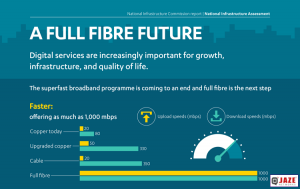 The Infographic below shows the importance of fiber-optic Internet connections for the growth of digital services, infrastructure and quality of life. There are different broadband connection types like ADSL (full copper line), FTTC (fiber & copper line), FTTP (full fiber line) and FTTH(Fiber to the Home). The copper line broadband connections have many disadvantages in delivering the internet speed and quality of your internet connection compared to the full fiber broadband connection. Full-fiber can also deliver very low latency, which means, less delay between sending a request and getting a response.
The Infographic below offers some stunning statistics that sum up where bandwidth stands today and where we are headed. Determining how much Internet speed you need is a straightforward calculation, but it involves many factors. You'll need to consider the total number of Internet users, the various on-line activities we engage in, the bandwidth necessary for those activities, and how many of those users will be using the Internet simultaneously. These factors will affect the Quality of Experience for the users.
Jaze ISP Manager AAA solutions integrates with carrier class routers from Cisco, Juniper, Huawei and Mikrotik to provide low latency and great broadband experiences to subscribers with specific traffic based QoS policies and more.