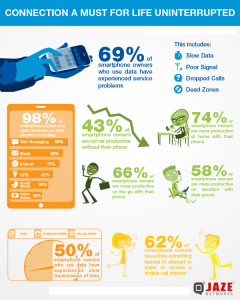 Staying always available and connected has become a necessity in today's times.
"How People Really Use Mobile" – 34% of all interactions on a mobile device is for productivity and 46 percent of people use their mobile devices for their "me time" including, watching videos, reading a gossip site, playing games and window shopping. With the vast majority of Smartphone owners experiencing service problems, a reliable indoor cell phone signal is an essential tool for making Connected Living a reality.
Internet Service Providers have to deliver a variety of services to their customers based on their connectivity.
Jaze ISP Manager is the Best ISP Management solution for Internet service providers and Wi-Fi HotSpot operators with full support for IPv6 and Mobile Data Offload(MDO).