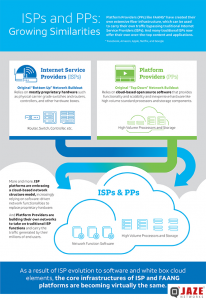 The infographic below shows the growing similarities of Internet service providers (ISPs) and Platform Providers (PPs). The ISPs provide their customer's internet through routers, switches and hardware boxes while PPs provide Internet through cloud-based software on standard processors and storage.
ISPs are now slowly moving to cloud-based network structure model which improves the scalability of networks with software based SDN capabilities. The cloud's on-demand self-service, broad network access, resource pooling, rapid elasticity and measured service enable ISPs to scale out without incurring huge costs. This is what makes the cloud so powerful. Cloud capability also allows taking advantage of Network functions virtualization (NFV) and helps ISPs better predict and provision their user traffic, to help them better manage and price their services and new policies to boost declining revenue of ISPs.
Platform Providers are in a way enabling ISPs to use their platforms or create similar platforms to help deliver scalable Internet services to subscribers. Many platform providers offer direct interconnect and peering along with caching services to help deliver their content faster through ISPs either with dedicated infrastructure or co-located with ISPs.
Jaze ISP management solution enables Internet Service Providers (ISPs) to scale out and manage growing subscriber bases centrally and provide managed QoS with optimum bandwidth allocation for building highly scalable networks.