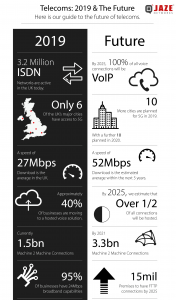 The infographic below shows how telecom companies are going to empower the future and the comparison of the current digital trends and upcoming digital trends. On an average there are 3.2 million ISDN networks active in UK. Going forward into the future almost all the voice connections will be VoIP. Now only a few places deliver 5G internet and in future it is going to be used widely deployed on a large scale and it is going to change the game for the entire telecom and digital industry. The speed of the average Internet is going to increase to around 50Mpbs. By 2025 over half of the businesses will be hosting on cloud. Business broadband capacity is going to increase and FTTP connections can be seen in the near future for fiber delivery.
With the growth in technology in the future, we are on the beginning of a new era with intelligent connectivity. Convergence of high speed 5G networks and IoT will welcome more opportunities for the ISP industry and to cope up with the requirements of the future digital trends, they must focus on network quality with better access to reliable services and better understanding of their customers.
Jaze ISP Management solution enables ISPs to ensure the best quality of service for broadband customers and to centrally manage end-to-end operations for their business with support for IPv6 and IoT for next generation services.