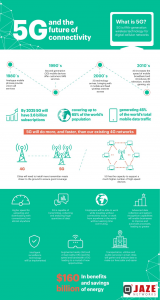 The infographic below shows how connectivity has evolved from early 90's to today. There will be more than 2.5 billion 5G subscriptions around the world in the next few years which will cover most of the population and drive mobile traffic growth enormously. There are some challenges with regards to deploying more towers and equipment and having the end-users upgrade their handsets to support 5G. 5G will create more opportunities to industries like telecom, healthcare, manufacturing, agriculture, financial and many more and this can lead us to increased adoption of IoT devices connected to 5G.
As 5G devices adoption increases within a year of availability, network services and internet service providers, need to transform their offerings as 5G will start to compete with what is already being offered by them on broadband. The providers have to adapt to meet customer requirements in terms of security, latency and bandwidth.
Jaze Networks provides Jaze ISP Management solutions enables ISPs to ensure the best quality of service for broadband customers and keeps up with all the upcoming technologies to centrally manage end-to-end operations for their business with support for IPv6 and IoT for next generation services.