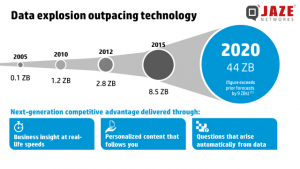 Mobile devices are leading the way for Internet connected devices, but in just a few years an Internet connection will be common in affordable items. Inexpensive sensors will allow you to tag and locate everything you care about. (Imagine never losing your keys again.) Think about the amount of information all of that will require. By 2020, we estimate the people, devices and servers of the world will be exchanging 44 zettabytes. That's 5,200 gigabytes for every man, woman and child.
Because of limitations in the bandwidth capacity and latency issues. Thus, increasing bandwidth does not speed up transmissions by any effective margin. Technology solutions that address real speed issues need to address latency issues in order to actually utilize all available bandwidth. The challenges and roadblocks associated with handling large data growth.
Most of the content is hosted by the content providers to deliver this content faster to provide better customer experience and cheaper transit.
Jaze ISP Manager helps you manage different traffic types to help and shape the content according to the destination in order to provide better experiences for customers.