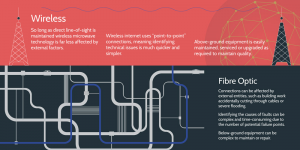 Fiber optic internet connection is the future of Broadband. With fiber optics we can have the fastest Internet speed and it also helps in providing seamless Internet without any interruptions compared to the wireless internet connections. The cost of deploying a fiber network is similar when compared to the wireless network. With fiber optic networks, you have dedicated and predictable throughput as it is a dedicated medium when compared with wireless networks.
Internet speed depends on how much data the infrastructure can handle. Does your ISP provide Internet with fiber optics?
Jaze ISP manager enables Internet service providers (ISPs) to centrally manage their end-to-end operations of their business to serve you with fast and reliable internet with fiber optics and manage triple play services on the same network.