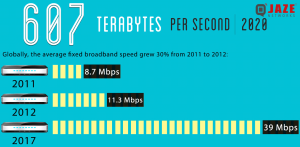 The Internet is a behemoth that just continues getting bigger and bigger consistently, and there is at present no indication of the rise in IP traffic slowing down anytime soon.
Bandwidth utilization is expanding on a yearly premise instead of achieving a level, so it is intriguing to investigate how much transfer speed is right now accessible to meet our present web surfing requirements, and how this significant asset is being utilized and shared the world over.
Pretty soon 1 Gbps Internet and 1 Gbps+ on 5G will become a reality. Is your network ready for handling surge in the Internet bandwidth usage by 2020?
Jaze ISP Manager enables Internet Service Providers(ISPs) to centrally manage end-to-end operations and scale with customer growth and increasing demand.